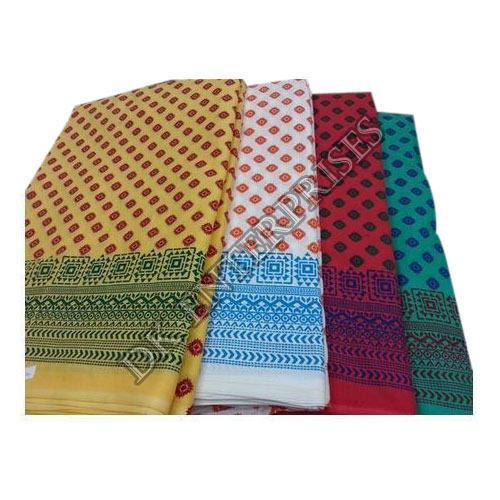 India is a country of diverse cultural heritage, bringing a variety of attire on board in the fashion fraternity. The most admired attire depicting the rich Indian cultural is a saree. It has always added to a scene of style. There are many varieties of sarees available, but the silk cotton saree is surely an exception in the ethnic wear. One who follows the latest fashion trends must stock up elegant cotton printed sarees in her wardrobe.
A brief about cotton fabric
The cotton fabric is formed as a result of various processes performed on the cotton yarn. Due to the innumerable attributes of cotton fabric like breathability, softness, insulation, skin-friendliness, strength, lightweight, easy maintenance, resistance to tear, and long life span, it is widely used for making various products. The fabric of cotton can be availed in a variety of colors like black, red, pink, blue, gray, yellow, and much more. It is widely used for crafting elegant sarees.
The cotton printed sarees are colorful and eye-catching but not lavishly embellished. This makes them perfect for festival occasions only where a cool ethnic look is demanded. With subtle accessories, one can get a formal look, whereas, with the loud accessories it is a perfect party ready.
These sarees should be kept with full caution and care for the reason that the pure silk gets eaten away by the moths. Therefore, it is advisable to keep them stuffed with papers such as butter paper, newspaper. You may also wrap them in a soft muslin cloth with the neem leaves.
In India, there are a number of providers of cotton printed sarees, who make them available all over the globe. They take into account the following aspects in order to meet the client expectation-
The cotton printed saree manufacturers in India are associated with the authentic vendors, who provide them with a genuine product.
They make sure that these garments are manufactured with the aid of premium grade fabrics and sophisticated techniques.
A team of highly skilled professionals is employed for crafting these masterpieces.
The sarees offered by them are in complete compliance with the contemporary trends in the market, in fact, these garments are the trendsetters in the industry.
These business houses offer the cotton printed sarees in various captivating colors, designs, styles, and patterns, to gratify the variegated tastes and preferences of the clients.
They are backed by a strong marketing and distribution system, to meet the requirements of geographically distributed clients
Cotton sarees from a cotton printed saree manufacturer in India are appropriate for both casual and party wear. Indeed, cotton saree was a tradition for centuries at such festivals as Diwali and Dussehra. On different occasions, foreign women who visit India tend to wear only cotton garments. As formal wear also, a cotton saree is a good choice. The cotton salads are women who work in positions such as schools, universities, catering and various forms of offices.
Thus, we can conclude that the cotton sarees are highly endeared by the women of all age groups